OPINION: Redistribution: Obama's Religion?
Obama Hurt My Feelings When He Destroyed the Constitution
Stella Paul
Apparently, the world's only superpower is now in the business of kissing the boo-boos of murderous Muslims aggrieved by our Constitution. More
On the eve of his first visit to the USas Egypt's president, Islamist Mohammed Morsi said he will demonstrate more independence from the U.S. in decision-making than his predecessor Hosni Mubarak and told Washington not to expect Egypt to live by its rules.
If it were not for oil, we could consider letting the Middle East self-destruct, but we cannot. World economy depends on it.
Politically, Obama has been beating his breasts about bin Laden's death, in order to prove he can manage foreign policy.
The Audacity of These Dopes
William L. Gensert
Strip away the Obama myth, and what are you left with? More
video
by LESLIE SACKS
Why does the most powerful government in the world apologize to a rioting rabble, murderers of ambassadors, avowed followers of Bin Laden, pillagers of sovereign American property…
If we are not willing to defend freedom of speech against Islam's Sharia-based, liberty-crushing totalitarianism, it will disappear.
Obama and Religious War
James Lewis
Obama represents the third or fourth wave of Marxism, in which the left forges an alliance with the biggest medieval throwback ideology in the world: desert Islam. More
Obama's Redistribution: What Did Frank Marshall Davis Say?
Paul Kengor
Barack Obama's thinking sounds hauntingly similar to that of the man who helped mentor him in the 1970s, the formative period of Obama's adolescence. More
by PETER FARMER
Demographic data confirm what many Americans already suspect – this is not the America of your grandparents, or even of your parents.
Why Romney Is Going to Romp over Obama in November
The Drive-By Pundit
Ignore the polls. Romney's going to win big, and you know why? Because blacks have lost their enthusiasm for Obama. More
The Commonness of Barack Obama
Mark W. Hendrickson
Yes, the president is unique among American presidents. However, against the backdrop of human history, and compared to other heads of state, he is drearily common. More
by Barry Rubin
With a Middle East policy crumbling, the Obama administration clings to a dangerous fiction while the mainstream media cheerleaders play along.
by Bridget Johnson
The chairman says an unprecedented level of cooperation, like that shown to the inspector general, could "perhaps eliminate the need for a protracted fight in the courts."
by Ed Driscoll
Perhaps Mr. Obama will get the chance, as Gov. Romney is quick to respond on the stump today, to change DC from the outside, come next year.
by Zombie
Be afraid…be very afraid.
'It's the Country, Stupid'
Lee Cary
There's a word that often describes too much of the inside-the-Beltway, northeast-corridor "conservative" punditry. More
Obama's Legacy on Black America
Lloyd Marcus
What on earth is going on in the hearts and minds of most black Americans in regard to Obama? Have blacks been bewitched? More
The real tragedy of our current plight reaches far beyond the horror of a murdered US Ambassador and his staff, or the outrage of a black Islamist flag being raised over our Embassy in Cairo, after Old Glory was torn down a desecrated by a seething mob of angry Muslims.
The Lesson on Egypt Found in the Dark Knight Trilogy
William Sullivan
The themes of Christopher Nolan's Gotham City can easily be applied to the tumultuous events now occurring in the Middle East. More
Redistribution: Obama's Religion?
September 21, 2012
Can America finally stop beating around the bush? More
Mitt Romney's Imaginary Campaign – Joe Klein, Time
Media Covering For Obama's Failures – Steve Huntley, Chicago Sun-Times
Obama: Lessons Learned Will Guide 2nd Term – Alexis Simendinger, RCP
Is the White House Lying About Libya? – Larry Kudlow, CNBC
The Debates Won't Save Romney – Paul Waldman, The American Prospect
Collapse of the Cairo Doctrine – Charles Krauthammer, Washington Post
Why the Suburbs Will Decide the Election – Joel Kotkin, The Daily Beast
State of the Race (Pt 3): Winning by Losing – Sean Trende, RealClearPolitics
The GOP's Disdain for Workers – Paul Krugman, New York Times
Why Voters Are Angry at Corrupt Bailout Culture – Nicole Gelinas, NRO
The Case For Optimism – Bill Clinton, Time
Round One to Scott Brown – Howie Carr, Boston Herald
"Snark" Costs Nice-Guy Brown in 1st Debate – E.J. Dionne, Washington Post
Name 1 Thing That's Improved Under Obama – Quin Hillyer, Am Spectator
Obama Right About Change, Wrong About DC Game – Ari Melber, Nation
U.S. Needs a Grandiosity Rebound – David Brooks, New York Times
Procrastination Politics in an Election Year – Lou Cannon, RealClearPolitics
Purple Strategies: OH: Obama +4 | FL: Romney +1 | VA: Obama +3 | More
Spinning on Libya – Boston Herald The Candidates Face Hispanic Voters – New York Times The Post-American Middle East – Wall Street Journal 100 Days Is Enough: Rep. Jackson Should Speak – Chicago Tribune
More From Real Clear

| | | | | |
| --- | --- | --- | --- | --- |
| 48.6 | Obama (+3.9) | | Romney | 44.7 |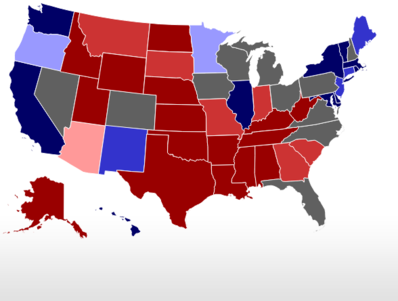 Real Clear Politics Thursday
Morning Update
We Need to Recover From the Obama Recovery – Mort Zuckerman, US News
Does Romney Dislike America? – E.J. Dionne, Washington Post
Redistributing Wealth, Redistributing Poverty – Thomas Sowell, IBD
Romney's Snake-Bit Season – Gail Collins, New York Times
Why Romney Might Beat Obama – Sean Trende, RealClearPolitics
Harsh Politics in the New Middle East – William McCants, Foreign Affairs
Hillary Clinton Faces Capitol Hill Grilling – Eleanor Clift, The Daily Beast
Obama Has No Clue on Middle East Madness – Victor Davis Hanson, NRO
Can Romney Quell Campaign Infighting? – Todd Purdum, Vanity Fair
The 47% Comment & the Echo Chamber – Aaron Blake, Washington Post
Shocking! Candidate Tells Some Home Truths – Melanie Phillips, Daily Mail
Dems Hold Momentum in Senate Battle – Josh Kraushaar, National Journal
Could Romney Survive a Loss in Ohio or Virginia? – Scott Conroy, RCP
Will QE3 Work? It's Already Failed – Louis Woodhill, Forbes
D.C. Area Counties Top Richest List – Morello & Mellnik, Washington Post
Is Obama a "Redistributionist"? Sort of – Timothy Noah, The New Republic
Treasury Must Sell Every Last GM Share – Ed Whitacre, Wall Street Journal
Afternoon Update
New Picture Emerging of Attack in Libya – Tabassum Zakaria, Reuters
As Islamists Rise, U.S. on Path to Nowhere – Arnaud de Borchgrave, UPI
Republicans and the 47 Percent: A Case Study – Kevin Drum, Mother Jones
Romney's Chance to Challenge the Welfare State – Robert Samuelson, WP
GM Reveals Bailouts as Devil's Bargain – Charles Gasparino, New York Post
Ripple Effects From Romney Video a Gift to Dems – Alex Seitz-Wald, Salon
The Real Reason Obama Snubbed Netanyahu – Edward Klein, FOX News
Romney's Shameful Views on Palestine – Peter Beinart, The Daily Beast
Who's That Knocking? Is Stagflation at Our Door? – Doug Kass, TheStreet
The Obama You Don't Know – Mark Tapscott, Washington Examiner
Mitt Romney, an Entitled Rich Guy – Ezra Klein, Washington Post
QE3 Is Just a Bailout for Government – Jeremy Warner, Daily Telegraph
Pledging to Obama 'For All'
September 21, 2012
There was a day when Barack Obama couldn't muster the energy or desire to lift his hand to cover his heart during the national anthem. Now, the Obama campaign is asking his supporters to do for him what he refused to do for America More
Afghanistan 'surge' ends quietly
September 21, 2012
Did it accomplish anything? More
US shutters embassies fearing more protests
September 21, 2012
Children in Pakistan chant "Death to America." More
Chick Fil A to stop funding anti-gay marriage groups
September 21, 2012
In the end, a business decision. More
How biased are the polls?
September 21, 2012
Some surprising answers. More
United Airlines is fast becoming Houston's most hated airline.
September 21, 2012
United Airlines CEO Jeff Smisek is co-hosting a Planned Parenthood gala in Houston. More
The Economy, but Not Just the Economy for Romney
September 21, 2012
An "economy" drumbeat by itself will not work for Mitt Romney. But he can tie the economy to a host of other issues. More
Republican Senate majority hopes in danger
September 21, 2012
With about six weeks until the election, a disturbing picture of the Senatorial elections is emerging. More
Recap: Obama's work
September 21, 2012
Please tell me why this man-child should be allowed four more years as President of the United States More
The Redistributionist
September 21, 2012
Obama's comments in 1998, now receiving so much attention, pale in comparison to these revelations More