News – China Never Stops Attacking
A Message from a former Muslim
Islam, conquest and respect
video

Here is no-holds barred  testimony from someone who knows. A message from a former Muslim is a couple of years old but it needs republishing. Posted by Moderator, Muslim Issue (thanks to Inex)
I was born and raised as Muslim. My whole family is still Muslim. I know every genetic code of Muslim. I know Islamic brain. I live and breath with them. I am an insider. I left Islam when I understood that Islam is a sick and evil religion. The following are the Islamic message to the West.To the infidels of the West:

The Constitution for the new Islamic Republics of EuroArabia and AmerIslamia is under construction.

We will fight the infidel to death.

- Meanwhile American laws will protect us.
- Democrats and Leftist will support us.
- N.G.O.s will legitimize us.
- C.A.I.R. will incubate us.
- The A.C.L.U. will empower us.
- Western Universities will educate us.
- Mosques will shelter us
- O.P.E.C. will finance us
- Hollywood will love us.
- Kofi Annan and most of the United Nations will cover our asses.

Our children will immigrate from Pakistan, Egypt, Saudi Arabia, Iran, and Indonesia and even from India to the US and to the other Western countries. They will go to the West for education in full scholarship. America is paying and will continue to pay for our children's educations and their upbringing in state funded Islamic schools.

We will use your welfare system. Our children will also send money home while they are preparing for Jihad.

انصار مرسى يحرقون المحلات والبيوت والكنائس فى سوهاج
video
They blame the Christian Copts for the overthrow of Mohamed Morsi.
The Blaze While most headlines from Egypt are focused on Wednesday's violent dispersal of Muslim Brotherhood supporter sit-ins — latest death toll placed at 149, per the Associated Press — Christians in the embattled country are facing what's being described as "a black day" as their churches are being attacked and torched by angry Islamists.
Supporters of ousted President Mohammed Morsi set fire to churches around Egypt in apparent retaliation for the police dispersing the pro-Morsi demonstrations in Cairo. According to AFP, three churches were attacked, but other outlets place the number much higher.
Egypt-watchers and reporters are using terms such as "unprecedented," a sectarian "catastrophe" and "a literal pogrom" to describe the unfolding of events Wednesday. One Twitter user called it "a black day in the Coptic modern history."
The Egyptian blogger The Big Pharaoh reported that the St. Theresa Church in Assiut in Upper Egypt was set ablaze and that both the St. James monastery and a Jesuit nuns' school in Meniah "a very old building" were burned down. Churches in Arish and Ezbet el-Nakhl in Greater Cairo were also "torched," The Big Pharaoh blogger reported.
"I think the magnitude and geographical spread of the attacks on Christians didn't happen before since the mid ages," the blogger tweeted.
It's unclear if the attacks were orchestrated in advance, but Eric Trager, an Egypt expert at the Washington Institute for Near East Policy tweeted, "Hideous & typical. MT @basildabh: FJP accuses 'Christian thugs under police' of dispersing Sohag pro-Morsi dem" referring to the Muslim Brotherhood linked Freedom and Justice Party.
AFP reports that attackers threw Molotov cocktails at the Coptic Christian Mar Gergiss Church in Sohag, a city with a large Christian population. Egypt's MENA news agency reported that the church burned down. This is the same church where Islamists raised an Al Qaeda flag last week, as TheBlaze reported.
Security officials speaking to AFP confirmed the bloggers' reports that another two churches were attacked in the Meniah province, but that partial damage resulted.
Morsi supporters
According to International Business Times, the churches attacked were the Church of Abraham and the Church of the Virgin Mary in Meniah. The outlet reported that Morsi supporters set fire to the buildings' exteriors then smashed through doors. The Bon Pasteur Catholic Church and Monastery in Suez was also reportedly attacked with Molotov cocktails and the smashing of windows.
The Maspero Youth Union which represents Coptic Christians is accusing the Muslim Brotherhood of "waging a war of retaliation" against Christians.
Israel National News conveyed these reports of the attacks on Christians:
In Fayoum, in Upper Egypt, pro-Morsi supporters set fire to a Christian youth center located next to the Muslim youth center where they had been protesting, according to a report on Ahram Arabic cited by the BBC. Ahram Arabic also reported that pro-Morsi supporters threw fire bombs at the Al-Raey Al-Saleh Church and set three military vehicles on fire. Clashes are ongoing between protesters and military forces.
Morsi supporters stormed the Church of St. George and set it on fire as well as Coptic shops and homes:
[UPDATE] Here is a list of churches and Coptic-owned institutions in Egypt that have been burned at the hands of Islamists so far.
Watani Weekly News (h/t MZ)
Three churches and six buildings at the monastery of the Holy Virgin and Anba Abra'am in Dalga, Minya, Upper Egypt
The church of Mar-Mina in the district of Abu-Hilal in the town of Minya
The bishopric church of Mar-Girgis (St George) in Sohag, Upper Egypt
The church of the Holy Virgin in Nazla, Fayoum, Lower Egypt
The Baptist church in Beni-Mazar, Minya
Coptic-owned shops in Gumhouriya Street in Assiut, Upper Egypt
The Good Shepherd School in Suez
The Fransiscan School in Suez
The Holy Bible Society in Fayoum
The church of al-Amir Tawadros (St Theodore) in Fayoum
The church of the Holy Virgin in the district of Abu-Hilal in the town of Minya
The Catholic church of St Mark, Minya
The Jesuit church in Abu-Hilal, Minya
The church of Mar-Morqos (St Mark) and its community centre, Sohag
18 houses of Coptic families in Dalga, Minya, including the home of Father Angaelus Melek of the Holy Virgin and Anba Abra'am's
The Evangelical church on Nassara Street in Abu-Hilal, Minya
The church of Anba Moussa al-Aswad in Minya
Coptic-owned shops, pharmacies, and a doctor's clinic in Minya
The Jesuit church in Minya (attacked, not burned)
The St Fatima Basilica in Cairo (attacked, not burned)
St Joseph's School in Minya (attacked, not burned)
The Nile boat al-Dahabiya, owned by the Evangelical Church in Minya
Coptic-owned shops, pharmacy, and hotels on Karnak Street and Cleopatra Street in Luxor (attacked and looted)
The church of Mar-Girgis (St George) in Wasta (attacked)
The church of St Michael on Nemeis Street in Assiut, Upper Egypt
The Adventist church in Assiut; the pastor and his wife were both kidnapped
The Greek church in Suez
The church of Mar-Girgis in Assiut
Coptic houses on Qulta Street in Assiut attacked
The church of Mar-Girgis (St George) in Arish, North Sinai
The church of St Dimiana and the Evangelical church in the village of Zerbi in Fayoum
The offices of the Evangelical foundation in Minya, and those of Umm al-Nour in Beni-Mazar, Minya
The church of Anba Antonius in Kerdassa, Giza
The bishopric church in Etfeeh, Giza
In addition to the attacks against the Copts, their churches, businesses, and property; Egyptians were aghast at attempts by the Islamists to break into the Bibliotheca Alexandrina (BA) in Alexandria and set it on fire. The BA security and staff confronted the assailants in the courtyard, and there was an exchange of gunfire. According to Khaled Azab, the BA's media manager, the conference hall was plundered, and a number of acquisitions went missing. The glass façade was shattered.
[UPDATE] Mohammed Abbas Gabr, a major general in the police department of Giza City Security Directorate  was killed by Muslim Brotherhood thugs.
Facebook (h/t MZ)
He and his fellow officers, were defending the police station they are responsible for until they ran out of ammo, and they were over crushed by MB terrorists, stealing the ammunition , weapons, kevlar vests, and radio walkie-talkies.
video

Philippine President Benigno Aquino III on Tuesday led the welcome ceremonies for the country's second Hamilton-class cutter from the U.S., a warship that was acquired as part of efforts to modernize the nation's naval force in the face of the territorial dispute in the South China Sea.
The warship was renamed after the late Commodore Ramon Alcaraz, who in World War II shot down three Japanese fighter planes using only a 55-foot stepped-hull torpedo boat.
"He was aware that nobody will defend our country but us," President Aquino said of the Filipino war hero.
China has been aggressively asserting its territorial claims in the South China Sea, running counter to the claims Philippines, Brunei, Indonesia, Malaysia, Taiwan and Vietnam. The disputed areas include some of the richest fishing grounds and important sea lanes, and they are suspected to contain crude oil and natural gas.
Aug 2, 2013 … A hacking group accused of being operated by the Chinese army now seems to
be going after industrial control systems.

Aug 3, 2013 …Chinese hackers have been harassing the US in a series of cyberattacks, but we'
ve started trying to talk it out and cool this all down. But in the …

Jul 12, 2013 … This week, United States and Chinese leaders sat down for a special
cybersecurity working group, a rare but increasingly necessary …

Jul 31, 2013 … SAN FRANCISCO (Reuters) – A Chinese hacking group tied to the breach of
security company RSA two years ago has targeted a maker of …

forwardthinking.pcmag.com/…/314078-mandiant-ceo-reveals-

chinese

-

hacking

-methods-goals –

Cached

Jul 24, 2013 … Mandiant CEO Kevin Mandia (above) told the audience at Fortune Brainstorm
TECH today how his company identified a specific unit of the …

Jul 19, 2013 … Taiwan is the frontline in an emerging global battle for cyberspace, according to
elite hackers in the island's IT industry, who say it…

Jul 30, 2013 … Beijing-based computer maker Lenovo has reportedly been blacklisted for years
by spy agencies worldwide, as concerns about …

Aug 2, 2013 … The Chinese hacking collective known as APT1 has long been suspected of
working with China's army, and as such has garnered its fair share …
By Michael J. Economides, Omobola Ajao, Hoagie Merry
For more than a decade China has been making headlines in energy news, always at the superlative degree and always as the emerging superpower comparable to the US, the reigning super power. Despite US involvement in two wars and reducing dependence on foreign oil imports thanks to a domestic renaissance of its oil and gas industry, it is the impact of China that is prominent on the world news stage.
There were people who believed the Chinese propaganda which, until 1990, was telling the world that China would continue to be self-sufficient in oil production. That was until 1993, when the cross-over between the production and consumption curves became transparent and frighteningly obvious. From then on, Chinese oil demand never looked back and posed some of the most startling trends in the world. The most noteworthy of which was an unprecedented rate of growth of more than 20 percent per year, three years in a row, in the early 2000s.
What the events of the last few years have shown is the resilience of the American economy, and to a large extent, the capabilities of American ingenuity.
From 2005 to 2007, US oil consumption exceeded 20 million barrels per day, peaking at 20.8, during which time the price of oil was on a constant upwards trend, fueled by nasty headlines such as Vladimir Putin's usurpation of Yukos and Sibneft and Hugo Chávez re-nationalization of the Venezuelan oil industry. The oil price of $40 per barrel in 2004 shot to almost $150 per barrel by July 2008.
Then there was talk about ongoing US energy dependency, with 12 million barrels per day of oil imports, intertwined with global warming rhetoric and even more nonsensical alternative energy "solutions" such as solar, wind and biofuels. Politicians had a field day trying to engineer, often in ridiculous ways, America's energy makeup and security.
And finally there was the economic collapse of 2008 just before the US election, crashing the price of oil back to $40 per barrel almost overnight. While the price of oil recovered to $100 per barrel, which is now considered to be the new normal, demand in the US stayed down, with consumption of oil flattening out to at least 2 million barrels per day below the 2005 peak.
But the most astonishing event since then, almost defying the economy and certainly the politicians' rhetoric and social engineering, is the enormous increase in US oil production, to a large extent a by-product of the "shale revolution". From a production of 8.2 million barrels per day in 2005 and 8.4 in 2008, it has increased by about one third to 11.5 million barrels per day today. The net impact on imports is a reduction of around 5 million barrels per day, a truly spectacular turn of events.
The adroit deployment of technology, the new understanding of the resource, the efficiency of the feat, and the level of engineering prowess will all offer future historians a number of complimentary epithets for the US petroleum industry and its current practitioners.
However, this leaves China, whose petroleum demand is slated to increase at a torrid pace of 13 percent between 2011 and 2014 (to more than 11 million barrels per day, and no chance to increase in domestic production) in the unenviable position of becoming the world's largest importer.
Michael Economides is Editor-in-Chief of the Energy Tribune
Every mistake Europe made, we are repeating. Why would a Tennessee school do such a thing? If Muslims don't want to eat pork, that's fine. But why must others adhere to their supremacist ideology?

They didn't say it was to avoid offending Muslims. They said it was about avoiding food allergies. But as one parent noted, "I've never heard of a life-threatening pork allergy." And it certainly wasn't to avoid offending Jews, who have managed to avoid eating pork in the U.S. for over 200 years without ever demanding that non-Muslims eschew it also.

School officials rescinded the ban after an outcry, which shows why it is important for free citizens to be aware and active. "Why Did a Tennessee Grade School Ban Pork?," by Todd Starnes for Fox News, August 15 (thanks to Creeping Sharia):

A Tennessee elementary school banned students from eating ham sandwiches, BLT's and anything else made with pork, but eventually lifted the ban after parents complained.Third grade teachers at Sunset Elementary School in Brentwood, Tenn. sent home an "Approved Snack List" for the school year and it specifically banned anything that comes from a pig.
American's Muslim Brotherhood sleeper cell took a hit today. This war on freedom and equality for all before the law knows no borders, geography or nationality. The Muslim Brotherhood in America is powerful and influential, and they mean to bring the sharia here. The implications of what transpires in Egypt will have vast repercussions for the West. But these Muslim Brotherhood operatives must be purged from the US government. There is a war in the information battle-space, and all the bullets, bombs and bloodshed comes as a result of what happens in that war.
Hamas-CAIR is reporting:
Brother of American Muslim Leader Ahmed Bedier Shot and Killed at Pro-Democracy Sit-In in Egypt CAIR Facebook
Every mistake Europe made, we are repeating. Why would a Tennessee school do such a thing? If Muslims don't want to eat pork, that's fine. But why must others adhere to their supremacist ideology?


They didn't say it was to avoid offending Muslims. They said it was about avoiding food allergies. But as one parent noted, "I've never heard of a life-threatening pork allergy." And it certainly wasn't to avoid offending Jews, who have managed to avoid eating pork in the U.S. for over 200 years without ever demanding that non-Muslims eschew it also.

School officials rescinded the ban after an outcry, which shows why it is important for free citizens to be aware and active. "Why Did a Tennessee Grade School Ban Pork?," by Todd Starnes for Fox News, August 15 (thanks to Creeping Sharia):

A Tennessee elementary school banned students from eating ham sandwiches, BLT's and anything else made with pork, but eventually lifted the ban after parents complained.Third grade teachers at Sunset Elementary School in Brentwood, Tenn. sent home an "Approved Snack List" for the school year and it specifically banned anything that comes from a pig.
And to think all you leftist dhimmis pooh poohed us when we warned you of the new Islamic Caliphate.
A proposed amendment to Oklahoma's state constitution that would have prevented state courts from considering sharia (Islamic) and international law was struck down by a 'dhimmi' leftist federal judge on Thursday. This amendment was overwhelmingly approved by Oklahoma voters in 2010.
HuffingtonPost Chief District Judge Vicki Miles-LaGrange of the Western District of Oklahoma, who issued a temporary restraining order preventing the law from taking effect after it passed in 2010, ruled Thursday that the amendment's references to Sharia, or Islamic law, violated the Establishment Clause of the U.S. Constitution. (Why did the lawyers allow the same Muslim Brotherhood front group CAIR-friendly judge to rule on this case again?) While Oklahoma officials argued the amendment could be enacted if the reference to Sharia was removed, Miles-LaGrange ruled that wasn't possible.
"Having reviewed the numerous statements by the legislators who authored the amendment, it is abundantly clear that the primary purpose of the amendment was to specifically target and outlaw Sharia law and to act as a preemptive strike against Sharia law to protect Oklahoma from a perceived 'threat' of Sharia law being utilized in Oklahoma courts," she ruled.
Miles-LaGrange also found that Oklahoma voters wouldn't have passed the constitutional amendment without the Sharia language, ruling that the "public debate, public discussions, articles, radio ads and robocalls regarding SQ 755 all primarily, and overwhelmingly, focused on the Sharia law provisions of the amendment" and that given that context, any reasonable voter would have thought the amendment was a referendum on Sharia.
It was an "undisputed fact" that "the concern that it seeks to address has yet to occur," said Miles-LaGrange. "While the public has an interest in the will of the voters being carried out, the Court finds that the public has a more profound and long-term interest in upholding an individual's constitutional rights," she ruled.
The lawsuit against the constitutional amendment was filed by the American Civil Liberties Union and the Council on American-Islamic Relations (CAIR) on behalf of the executive director of CAIR's Oklahoma chapter, Muneer Awad.
Muneer Awad, the executive director of the Council on American-Islamic Relations in Oklahoma, sued to block the law from taking effect, arguing that the Save Our State Amendment violated his First Amendment rights.
"This is an important reminder that the Constitution is the last line of defense against a rising tide of anti-Muslim bigotry in our society, and we are pleased that the appeals court recognized that fact," Awad said. "We are also hopeful that this decision serves as a reminder to politicians wishing to score political points through fear-mongering and bigotry."
"This law unfairly singled out one faith and one faith only," said Ryan Kiesel, executive director of the ACLU of Oklahoma. "This amendment was nothing more than a solution in search of a problem. We're thrilled that it has been struck down."
This video is from the first time an Appeals Court struck down the voter-approved anti-sharia bill:

B'HOOD CALLS FOR 'DAY OF RAGE'
Islamic supremacism in action. Muslim Brotherhood groups in the US like Hamas-CAIR are demanding that Obama support this violence and genocide.
CopticWorld regrets to inform you that today has been very destructive for Coptic Christians in Egypt. We are attempting to document all the destruction. You can see a list of the churches and institutions that have been destroyed at:
Tallying the destruction Coptic World Aug. 14, 2013, 10:15 p.m.
Please note that this situation is fluid and changing.

Alexandria

Father Maximus Church

Arish

St George Church | Burned

Assiut

Good Shepherds Monastery |  Nuns attacked
Angel Michael Church | Surrounded
St George Coptic Orthodox Church
Al-Eslah Church| Burned
Adventist Church | Pastor and his wife kidnapped
St Therese Church
Apostles Church | Burning
Holy Revival Church | Burning

Beni Suef

The Nuns School
St George Church | al-Wasta

Cairo

St Fatima Basilica | Heliopolis | Attempted Attack

Fayoum (Five churches)

St Mary Church | El Nazlah
St Damiana Church | Robbed and burned
Amir Tawadros (St Theodore) Church
Evangelical Church | al-Zorby Village | Looting and destruction
Church of Joseph | Burned
Franciscan School | Burned

Gharbiya

Diocese of St Paul | Burned

Giza

Father Antonios
Atfeeh Bishopric

Minya

Church of the Virgin Mary and Father Abram | Delga, Deir Mawas
St Mina Church | Abu Hilal Kebly, Beni Hilal
Baptist Church | Beni Mazar
Deir Mawas Bishopric
Delga Church | Attacked
The Jesuit Fathers Church | Abu Hilal district
St Mark Church | Abu Hilal district
St Joseph Nunnery
Amir Tadros Church
Evangelical Church
Anba Moussa al-Aswad Church
Apostles Church

Qena

St Mary's Church | Attempted Burning

Sohag

St George Church
St Damiana | Attacked and burned
Virgin Mary | Attacked and burned
St Mark Church & Community Center
Anba Abram Church | Destroyed and burned

Suez

St Saviours Anglican Church
Franciscan Church and School | Street 23 | Burned
Holy Shepherd Monastery and Hospital
Good Shepherd Church (molotov cocktail thrown)- Relationship with Holy Shepherd Monastery unknown.
Greek Orthodox Church

Christian Institutions

House of Father Angelos (Pastor of Church of the Virgin Mary and Father Abram) | Delga, Minya | Burned
Properties and Markets of Copts | al-Gomhorreya Street, Assiut
Seventeen Coptic homes | Delga, Minya | Burned
YMCA | Minya| Burned
Coptic Homes | Qulta Street, Assiut | Attacked
Offices of the Evangelical Foundation & Oum al-Nour | Minya
Coptic-owned shops, pharmacy, and hotels | Karnak and Cleopatra Streets, Luxor | Attacked and Looted
Dahabeya Nile Boat | Minya| Church-owned
Bible Society bookshop | Cairo | Burned
Bible Society | Fayoum
Bible Society | al-Gomohoreya Street, Assiut
Continue reading "List of the churches and institutions that have been destroyed by Muslim Brotherhood supporters today" »
This is not the first time CAIR has gone after Sam Kharoba, a popular counter-terrorism trainer used by the FBI and many law enforcement agencies around the country. (Check links at bottom) And this probably won't be the last time they fail to silence him.
Kharoba is a Jordanian-born Christian who has been one of the most prominent, respected counter-terrorism instructors in America, since the attacks of September 11, 2001. He is a trainer to America's beat cops, one of several hundred working the law enforcement training circuit. Sam Kharoba, who believes that 'Islam is a highly violent radical religion,' has taught Florida law enforcement 21 times from 2005-2012. CAIR wants Sam Kharoba, founder of the Florida-based Counter Terrorism Operations Center, barred from training state and local law enforcement agents because, CAIR says, he's a bigot.
FOR IMMEDIATE RELEASE
CAIR Asks Illinois Law Enforcement to Drop Anti-Muslim Trainer
(CHICAGO, IL, 8/15/13) — The Chicago chapter of the Council on American-Islamic Relations (CAIR-Chicago) today called on Illinois law enforcement authorities to drop Sam Kharoba, a notorious anti-Muslim bigot, as a counterterrorism trainer.
CAIR-Chicago asserts that Kharoba's training materials on Islam are riddled with inaccuracies, sweeping generalizations and stereotypes, that he is unqualified as a subject matter expert on either Islam or countering violent extremism and that his training has elicited disturbingly prejudiced responses from trainees.
"Counterterrorism training is too important to be left to those who promote a bigoted political or religious agenda," said CAIR-Chicago Executive Director Ahmed Rehab. "Our state's law enforcement agencies should work with credible leaders of the Muslim community to address any issues related to Islam."
Kharoba is scheduled to give a training session on "Islamist Terrorism" for North East Multi-Regional Training (NEMRT) beginning August 19 in Lombard, Ill. He will also train law enforcement personnel at the Highland Park and Elmhurst Police Departments. The Illinois Terrorism Task Force is funding the training through the Executive Institute of the Illinois Law Enforcement Training and Standards Board.
CAIR-Chicago says a training manual Kharoba used in the past, "A Law Enforcement Guide to Understanding Islamist Terrorism," combines vile accusations against Islam, sweeping generalizations targeting all Muslims and factual inaccuracies.
The first chapter of Kharoba's training manual attacks the entire religion of Islam and attempts to prove, through selective evidence, that it is inherently violent. He writes: "Most of us have heard statements similar to 'Islam is a religion of peace' and that 'Muslim radicals hijacked, twisted and altered Islam to justify their Jihad against non-Muslims.' This book will provide definitive proof contradicting these statements and allegations."
In its 2011 investigative report, "How We Train Our Cops to Fear Islam," Washington Monthly quoted Kharoba: "'When I look at the life of Muhammad, I get a very nasty image,' said Kharoba. . .'And that is just to start off with. Anyone who says that Islam is a religion of peace,' he continued, 'is either ignorant or flat out lying.'"
See what Sam has to say about CAIR here:
RELATED STORIES/VIDEOS of CAIR trying to silence Sam Kharoba.
cair-fail-officials-rebuff-cairs-bullying-tactics-demanding-florida-law-enforcement-bar-training-by-counter-terrorism-expert-sam-kharoba
cair-troublemaker-on-a-witch-hunt-to-cleanse-every-government-office-of-its-counter-terrorism-trainers
islamophobia-ocders-from-terror-linked-cair-shift-their-whining-about-new-york-police-to-florida-police
jordanian-trainer-teaches-our-cops-to-fear-islam-and-catch-muslim-bad-guys
By BareNakedIslam • Posted in CAIR Nazis
RALEIGH, N.C. (WTVD) — Dozens of undocumented students at Wake Technical Community College are pushing for changes to a policy that requires them to pay out-of-state tuition. The students are forced to pay the out-of-state fees, which are nearly four times the cost of in-state tuition, even if they graduated from a North Carolina high school and have been living in the state for some time. Five students were arrested at Thursday's protest after repeated warnings to leave the campus. Wake Tech officials said the group didn't file the proper paperwork to protest at the college. The five individuals, ranging…
Major Egyptian media sources are reporting that these pro-Muslim Brotherhood demonstrators are actually being killed by Muslim Brotherhood members. If these reports are correct, Egypt may be home to Pallywood on steroids. Is it possible that Muslim Brotherhood loyalists are killing their own in order to implicate the interim government?
Shoebat Ahram reported that helicopters belonging to security forces buzzed the rooftops of residential towers in anticipation of Muslim Brotherhood snipers. Elfagr reported that Egyptian security forces were working to clear at least seven Muslim Brotherhood snipers from the area around Rabia Al-Adawiya mosque.
The very reputable Dostor reported that eight Brotherhood snipers were arrested near the Rabia Al-Adawiya mosque, which is an important landmark. The snipers were shooting from rooftops of buildings close to the mosque. Yesterday, we wrote about explosive claims made by Egyptian talk show host Ahmed Moussa on July 30th. He called out U.S. Ambassador to Egypt Anne Patterson for not acknowledging that the "assassin" of Christopher Stevens – a man Moussa identified as Mohsen Al-Azazi – was "present at Rabia Al-Adawiya" mosque with Safwat Higazy and Mohammed El-Beltagy.
Alamiya reports that Brotherhood snipers have been in place for more than a month and cites sources who claim that these snipers have been firing "indiscriminately" toward security forces.
Check out this translated excerpt from an analysis of a video posted on July 28th which claims to reveal that the shootings of Mursi's supporters actually came from the direction of… Mursi's supporters. In this particular case, the victim in question was shot in the head:
"The scandal of the terrorist group that kills its supporters and trades their blood for advantage, reveals and clarifies the picture of firing live bullets at the protesters… The distance between the first October Bridge area stationing police and the victim is more than 500 meters. The sense of impossibility that this person could be hit in the head from such a distance at ground level while amongst such a large crowd should be obvious."
Terrorism expert Eric Stakelbeck on the Muslim Brotherhood's threat to Egypt and the world.
I know many BNI readers have already emailed the Governor, but CAIR is flooding Governor McCrory's office with emails telling him NOT to sign the anti-sharia bill. So if you can, please send one more so we can stop sharia law from being considered in court cases in North Carolina, once and for all.
We should not have to do this because our Constitution forbids using foreign law in the US. But that hasn't stopped at least 50 judges from considering sharia in cases involving Muslims.
*** URGENT NATIONAL LEGISLATIVE ACTION ALERT! ***PLEASE URGE GOVERNOR MCCRORY TO SIGN
NORTH CAROLINA'S ALAC BILL INTO LAW!OPPOSITION WORKING TO SHUT IT DOWN, IRRESPECTIVE
OF STRONG COMMUNITY SUPPORTE-MAILS NEEDED NOW!by Lisa Piraneo, Director of Government Relations
Over the last few months, things have been going very well in the state of North Carolina with regard to American Laws for American Courts (ALAC) legislation.
The state legislature has passed Representative Chris Whitmire's American Laws for American Courts bill, officially titled, "Foreign Laws/Protect Constitutional Rights" (bill number, HB522) with bi-partisan support: House (75-37) and Senate (31-2).
North Carolina is well on its way to joining the FIVE other states who now have ALAC laws on the books.
But there is one final step necessary.
We are still waiting for Governor Pat McCrory to sign North Carolina's American Laws for American Courts legislation so it becomes law in North Carolina. He has until August 25th to do so and he is being pounded by opposition groups like CAIR—who have unleashed their nationalmembers on North Carolina—to veto the bill.
At this time, it is critical that the Governor understand how important ALAC is to North Carolina,as well as how supported it is by the community.
THIS IS AN URGENT NATION-WIDE CALL FOR ALL HANDS ON DECK.
Can we count on you to help us with the quick Action Item noted below? It will only take a minute of your time, but it will send a very powerful message to the Governor.
Again, as a quick re-cap, Representative Chris Whitmire's American Laws for American Courts (ALAC) bill, officially titled, "Foreign Laws/Protect Constitutional Rights" (bill number, HB522) now passed both the North Carolina House (75-37) and Senate (31-2)—with bipartisan support!
Now Governor McCrory must sign the measure into law, so that North Carolina can join the FIVEother states that have already done so.
This issue is a top priority for Brigitte Gabriel and the ACT! for America national organization. Can we count on you to help us with the quick Action Item noted below—and to pass this message on to everyone you know?
*** Important Action Item ***
Today, please E-MAIL, Governor Pat McCrory (no phone calls, please) and relay the message below respectfully and in your own words.
To send an e-mail to the Governor, click HERE
Please respectfully relay the following message in your own words:
| | |
| --- | --- |
| | Governor,I am pleased to see that HB522, introduced by Representative Chris Whitmire, has passed both the North Carolina House and Senate in a bi-partisan fashion.This bill is important because it protects North Carolinians' constitutional rights from the incursion of foreign laws and foreign legal doctrines, if those laws infringe upon their state or federal constitutional rights. It's common sense—pure and simple. No particular law is singled out.We must maintain the authority of the North Carolina and U.S. Constitutions.I urge you to sign this piece of legislation into law as soon as possible so that North Carolina can join the five other states that already have done so.Thank you very much for your leadership on this vital matter.Sincerely,(Your name) |

RELATED STORIES/VIDEOS:
north-carolina-please-tell-the-governor-to-support-the-anti-sharia-bill-hb-522
excellent-more-and-more-states-move-to-ban-foreign-sharia-law-in-the-united-states
excellent-after-passing-the-house-north-carolina-anti-sharia-bill-passes-the-senate
Thursday, August 15, 2013 | Borderland Beat Reporter Chivis
BorderlandBeat.Com
A Malaysian court on Wednesday dismissed an appeal by three Mexican brothers of their convictions and death sentences for drug trafficking.
The men still have one more opportunity to appeal to Malaysia's highest court after a Court of Appeals rejected their bids to be released.
The Mexicans from Sinaloa state were arrested at a secluded Malaysian drug-making factory in 2008 and said they had been cleaning the place.
Police found more than 29 kilograms (63 pounds) of methamphetamine worth 44 million ringgit ($15 million) at the factory where they were working as maintenance men.  The owner of the factory and others were set free.  The men had only been in Malaysia for a couple of months.
Malaysia's High Court convicted the brothers — Jose Regino, Simon and Luis Alfonso Gonzalez Villarreal — of drug trafficking in May 2012. The crime carries a mandatory penalty of death by hanging.
Defense lawyer Kitson Foong said the men and their family were "keeping their hopes high" that their final appeal will succeed.
The Mexican government said it will continue to help fight the sentence because, despite a guilty verdict, the country opposes such form of punishment. It said the embassy there will be reviewing the defense appeal that will be filed in the next few days.
"Mexico's government regrets that Malaysia is upholding a death sentence against the Gonzalez Villarreal brothers," says a statement by the Foreign Relations Department. "It will exhaust its legal resources aiming to revoke the death sentence."
The brothers are the first Mexicans held in Malaysia on drug trafficking charges. They worked making and selling bricks in Mexico, and their family said they left for a job opportunity abroad.
The Mexicans come from the state of Sinaloa, cradle of their country's drug trade, but have no criminal record at home. Their relatives insist there was no sign they were involved in the drug trade.
AP
Chivis:
My husband and I have worked our business in the Pacific Rim for 3 decades.  Beginning with Taiwan we have lived in several of the Asian countries, including KL Malaysia.  Malaysia is a Muslim country and one with the majority of citizens hating Americans.  Some of the architectural meetings for the 911 tragedy were held in Malaysia, after 911 we sold our offices and home and moved out of the country
It was in Malaysia that I first learned of a practice of servitude being conducted there.
Servitude or debt bond slavery is practiced in two ways.  One is a head hunter in Mexico, or Central America recruits workers with promises of high paying jobs that contract for a year.  They promise training that they will cultivate a career out of and return to their country with.  They agree and are taken to an Asian country and passports taken away, and the men or women are "resold" or a recruiter will find workers for a direct transfer.
This practice is slavery.  Money is never paid because there always is a "debt" to repay, for travel, food, and housing.  They do not have; freedom to leave the premises at their choosing, money, or passports.   They are told they will be severely punished if they go to the police because they are in the country illegally.  They speak Spanish, which is one of the reasons they are attractive to those who entrap them, it limits who they communicate with.  This can continue for years even decades.  They are threatened, beaten, women are raped.
When I heard of this story and when journalists travelled to Sinaloa to get a sense of the brothers only to find zero criminal history or ties, and that a man at the soccer field was telling them about these high paying jobs, everything clicked with me.  I highly doubt that these men knew they were going to work with drugs.  And forget Sinaloa Cartel running drugs in Malaysia or any Asian country with the Triads in control.  Mexican cartels buy the precursor from Asia and make drugs in Mexico or Central America not cut into the business of the Asian mafias at their homefront.
It appears that Muslim countries are the guiltiest of this shameful practice, but also Asian countries.  The Philippines, Bangladesh and other impoverished countries are affected.    Young women and teens are promised modeling jobs which turn out to be the sex trade.
The fact that no one but the brothers ended up taking the rap, after being there for such a short period of time, and the tampering of evidence, along with other facts leave a strong doubt of their guilt.  But that is typical in Malaysia the big fish never fry, just little patsies like these brothers.  Their downfall surely was not helped by public opinion that they were from Sinaloa; there has never been a connection to CDS or any cartel with the brothers.
I concede it is difficult for one to understand this practice, without living there and seeing it for yourself, or know of someone who has.
Even if guilty of running the machines or cleaning them, they certainty do not deserve death.  In Malaysia they hang people even for Marijuana.  Yet capital punishment has done nothing to curb the drug problem or any crime, for a couple of years a momentum has grown to abolish it because it has not help with crime. As previously stated it is seldom the drug trafficker or person heading the operation that is convicted.  And in other cases this prosecutor is under scrutiny for fabricating evidence and destroying evidence that would exonerate.  Evidence was lost and tampered with in this case as well.
Share it:
| Borderland Beat Reporter Tijuano
Tijuano for Borderland Beat
Note: My sincere apologies to all the readers who awaited for so long for Part 3 of this series, as I had stated in previous comments, my health had some ups and downs in the last months and I just didn´t feel like I could give my full attention to this article, I´m already working on Part 4 and it should be up soon. You can read Part 1 HERE and Part 2 HERE. Links to the sources can be found by clicking on the top of each story)
It was the year 2000, a time of change in Mexico; for the first time, the Mexican people could claim their President was elected by them and not by the previous President. Many things changed in Mexico with the arrival of Vicente Fox (PAN) at Los Pinos.
The people of Mexico had their hopes set in the new Government, 70 years of the so called "Perfect Dictatorship" by the PRI party left Mexico with some really big issues. At the moment, the drug trade was believed to be a problem suffered only in border cities like Tijuana and Juarez. Amado Carrillo had been gone for 3 years and (at least to the general population) the biggest dealers were the Arellano Felix brothers, they were feared all over the country. What the general population didn´t knew was the fact that the Tijuana Cartel had lost a lot of suppliers in Colombia, some of them were death (Helmer Herrera and Jose Santacruz Londoño, both high ranking members of the Cali Cartel), and others were in prison (Most notably the Rodriguez Orejuela brothers), this caused big problems inside the Tijuana cartel which at the moment was the main source of Colombian Cocaine to the west coast.
The cocaine producers in Colombia had issues with the Arellano Felix brothers, even with all the power they had, they struggled to send money to Colombia and the new cocaine producers soon lost their patience, they began looking for new contacts in Mexico who could keep moving all the tons of cocaine they could make. They search didn´t take long, the Beltran Leyva brothers (then unknown to most people) soon made a deal with the North Valley Cartel. Colombia had a new partner in Mexico and it was none other than the old rival of the Tijuana Cartel.
The war for Tijuana was in high gear, after Vicente Zambada Niebla´s succesfull attempt at "heating up" Tijuana, the Federal Government had to do something.
On December 22nd, 2000, Vicente Fox announced his first action regarding national security, his goal was to "eradicate" organized crime from Tijuana, he planned on recruiting 12 to 15 thousand new Federal Police Officers and take them to Tijuana to fight the Arellano Felix Organization, he was clear on his intentions: "Power to power, We will beat them". Fox claimed he would do this in a mere 6 months; this was well documented by the national media in Mexico.
All this sounded good on paper, but truth be told, not much changed in Tijuana. Of the "12 to 15 thousand" new officers, only 2 thousand arrived at Tijuana, and most of them stayed there for only a week or two. According to ZETA newspaper, Tijuana was calm for about 2 weeks on January 2000, but as soon as the Federal Government left, the Cartel operatives went back to work stronger than before.
Former Mexican President Vicente Fox Quesada.
By the year 2000, not many knew the name of Javier Torres Felix, much less that of Arturo Villarreal Heredia, but at least one of this names would soon appear in the national media.
Javier Torres Felix aka "El JT" was a little known drug trafficker who began his career working for Manuel Salcido Uzeta aka "El Cochiloco", Torres Felix had been previously arrested several times, including once in Mazatlan in the year 1990 (in possession of 800 kilos of Marijuana and 4 AK-47 assault rifles) and once in 1997 in Quintana Roo (this time with 2 kilos of Cocaine), he never stayed more than a year in prison. By this time he was recognized by the DEA as Ismael "El Mayo" Zambada´s right hand man.
In 1999 Jesus Villarreal Heredia was killed in El Carrizal, Sinaloa. Javier Torres ordered the hit over some drugs. At the moment Arturo Villarreal was a low level hit man for the Tijuana Cartel, he began his career in Tijuana kidnapping business man when he was recruited by the Tijuana Cartel as an enforcer.
Arturo sought vengeance and he volunteered himself to go to Sinaloa and kill Javier Torres, along with his brother, Manuel Torres Felix aka "El M1".
Arturo knew Torres Felix had a ranch called "El Cajoncito" in Cosala, Sinaloa. He travelled there along several hit men from the Tijuana Cartel, others were recruited in Culiacan and Mazatlan, the plan consisted in raiding Javier´s ranch and killing him.
After arriving at "El Cajoncito", Arturo only found some construction workers who were building a cellar. The construction workers were questioned but they claimed they knew nothing; they were taken to a nearby ranch called "El Limoncito". On their way to "El Limoncito", the gunmen found Humberto Torres Felix along with other men, when they saw the convoy they got scared but Humberto told them not to fear since it was "Javier and his people", as soon as the gun men stopped their vehicles the ranchers tried to run and were shot by the Tijuana enforcers, Humberto was captured and taken alongside the construction men.
When the gunmen arrived at "El Limoncito", people didn´t suspect what was about to happen, the hit men were dressed in military clothing and the town people thought they were just a group of the Mexican Army doing surveillance in the mountains.
It was February 14th, Valentine´s day, the whole town was celebrating the Sheriff's birthday with a big BBQ, at about 5:30 PM, the group of hit men arrived at Valentin Beltran Arechiga´s house, the leader ordered the hit men to round up all men in town and take them to the town plaza. The hit men raided all the homes asking for Javier and Manuel Torres Felix but none was found.
After searching in all the town homes, most adult males, along with 2 minors were taken to a pick-up truck bed where they were shot to death.
This massacre made the headlines all over Mexico, giving more pressure to the new Government to act as quickly as possible; "El Chapo" had just escaped from a "Maximum Security" prison and the mass murders between cartels were becoming very common.
Days after the massacre hit the news, several people were believed to be behind the gunmen, for several years the official version claimed it was Lino Portillo Cabanillas aka "Lino Quintana" who led the death squad, if Lino was involved in the massacre is still a mystery, he denied his involvement years later. Arturo´s involvement would be revealed years later in several made-to-order "corridos" (songs) where he claimed to be the "terror of the Torres". Javier Torres Felix and Ismael "El Mayo" Zambada narrowly escaped a raid by the Mexican Army in Cosala, Sinaloa on October 2001.
Massacre at El Limoncito de Alaya.
In 2001, Humberto Rodriguez Bañuelos aka "La Rana" was one of the main hit men for the Arellano Felix brothers, Rodriguez Bañuelos was a former Sinaloa police chief, in 1988 he was accused by journalist Manuel Burgueño of protecting the interests of drug lord Manuel Salcido Uzeta aka "El Cochiloco", that same year Manuel Burgueño was killed by 2 men under orders of Rodriguez Bañuelos, this caused an uproar in Sinaloa which prompted the Federal Authorities to act, his brother was arrested and accused of helping in Burgueño´s murder, however he escaped prison along with 96 other inmates.
"La Rana" escaped Sinaloa, and for some time nothing was heard of him, until he was mentioned as the leader of a group of armed men who participated in the murder of Catholic Archbishop Juan Jesus Posadas Ocampo under orders of Ramon Arellano Felix, it was in 1993 when the Government knew he was now working for the Arellano Felix brothers. His involvement in this crime is still in doubt, some claim he was there protecting Ramon Arellano´s escape, others said he went to the airport with the orders of killing the Archbishop, neither has been confirmed. "La Rana" had a huge criminal record in Jalisco, he was investigated in at least 19 murder cases, when some of his men were arrested, he sent someone nicknamed "El Tio" to speak with the State Prosecutor in order to make him an offer, the Prosecutor said no, so he was killed.
Rodriguez Bañuelos was arrested on March 2001 after a shootout in Tijuana, in that shootout he killed 2 Municipal Police Officers and was taken to the Tijuana prison under the name of Carlos Duran Montoya. Nobody recognized "La Rana" at the moment of his arrest; he had undergone plastic surgery to change his face and submitted himself to a liposuction which helped him loose about 90 pounds.
It wasn´t until several months later when an anonymous informant gave the authorities the tip of who Duran Montoya really was, he was transferred to Puente Grande Federal Prison (same one Chapo had escaped a year before) as soon as the authorities knew the true identity of Rodriguez Bañuelos. His capture was another major hit to the Tijuana Cartel, Rodriguez Bañuelos was a man with direct contact with the Cartel leadership, someone who could give inside information on the daily movements of the Arellano brothers. "La Rana" was convicted to 37 years in prison.
Humberto Rodriguez Bañuelos aka "La Rana", before and after liposuction.
3 months after Fox´s declaration of war, the Tijuana Cartel had receive only minor hits (save for La Rana´s arrest), but this all changed in March 23rd, 2001 when the Mexican Federal Forces arrested Rigoberto Yañez Guerrero aka "El Primo" and Bernardo Araujo Hernandez aka "El Jabali", they were at the time Ismael Higuera´s right hand men.
Rigoberto was in charge of receiving the cocaine shipments arriving from Colombia at the Mexico City International Airport, Rigoberto is Ismael Higuera´s cousin hence the nickname "El Primo". Bernardo Araujo was in charge of making sure the cartel´s money had a safe trip down to Colombia in order to pay for the cocaine shipments, he also was in charge of providing the necessary security to cartel bosses when they were in the city. Both of them were arrested in the Benito Juarez district in Mexico City by Federal Police Agents.
Later that year, in June, the Federal Government gave another major hit to the Tijuana Cartel when Ivonne Soto Vega aka "La Pantera" was arrested in Tijuana by the Mexican Army. Soto Vega had a close relationship with the Arellano Felix brothers and their wives, she even went on vacations with them on several occasions, her role in the organization was to launder money, she was considered at the time of her arrest the main money laundered for the Arellano brothers, by estimates of the U.S. Department of the Treasury, "La Pantera" laundered over 120 million USD during a 3 year investigation.
According to
Federal reports
, in 2001 the Tijuana Cartel had a presence in 15 Mexican States while the Sinaloa Cartel only operated in 5 Mexican States and only with help of the Juarez Cartel who had a major presence in 17 Mexican States. Sinaloa as a Cartel didn´t had the resources it now has; it was a "Satellite" Cartel to the Juarez Cartel.
Nowadays that situation has greatly changed, and it was in part the result of the major hits received by the Tijuana Cartel.
Ivonne Soto Vega and Eduardo Arellano Felix.
2002 will be remembered by many as a fatal year for the Tijuana Cartel, on January 10, 2002, Ramon Arellano Felix was killed by a Sinaloa State Police Agent in Mazatlan, Sinaloa.
Ramón Arellano was known for personally "hunting" his enemies, he loved to take action in the executions of his rivals, he attended and participated in the execution of capos such as Armando "El Rayo" Lopez, Rigoberto Campos Salcido and Manuel Salcido Uzeta aka "El Cochiloco", among others.
His passion for killing rivals would ultimately be the reason for his death. According to ZETA magazine, somewhere in late January, a tourist from Sinaloa was arrested in Guadalajara by Federal Agents, the "tourist" had was drunk and began telling the Federal Agents about his "friends" in Sinaloa, he mentioned a party being organized by Ismael "El Mayo" Zambada in Mazatlan during its carnival. The "tourist" was set free and the Federal Agents immediately called their contacts on the Tijuana Cartel, they gave them the info they had about "El Mayo".
Ramon arrived at Mazatlan on February 5th, for five days he toured the city, he wasn´t able to locate Zambada anywhere.
Share it:
Wednesday, August 14, 2013 | Borderland Beat Reporter Chivis
BorderlandBeat.Com
Good luck locating him
A Mexican judge on Wednesday ordered the arrest of notorious drug lord Rafael Caro Quintero — who was
freed last week
on a technicality — after receiving a US extradition request.
US authorities were outraged by the surprise release of Caro Quintero, who had served just 28 years of a 40-year sentence for the abduction, torture and killing of a US drug agent in 1985.
The 60-year-old, once a senior figure in a now-defunct cartel, was convicted of killing the US Drug Enforcement Agency's Enrique Camarena and his Mexican pilot Alfredo Zavala.
But on August 7 a judge in the western state of Jalisco ordered his release, and Caro Quintero has gone missing since he left prison.
The federal judge accepted the request from the US government, saying Caro Quintero was wanted for "various offenses" in the state of California, the Mexican attorney general's office said.
If and when Caro Quintero is detained, US authorities will have 60 days to submit a formal extradition request, it added.
The US National Security Council had said Sunday it was "deeply concerned" by Caro Quintero's release and feared another individual connected to the Camarena killing could also be set free.
Mexican Foreign Minister Jose Antonio Meade downplayed the dispute over the release, saying it would not affect relations with Washington because both governments opposed the court ruling, which he said should be "revised."
Caro Quintero was a leading figure in the Guadalajara Cartel. The now-defunct organization was one of the early Mexican drug mafias that linked up with Colombian groups to smuggle cocaine and other drugs into the United States.
Source:Global Post
Share it:
by Andrew Klavan
A bad argument for the Truth.
by Bridget Johnson
Foreign military officers came to shop at the megaconference, including one country that's perpetually on America's case about drones.
The Benghazi charlatans can be removed. Reforming and policing the tax collectors is more difficult.
by David P. Goldman
The events of the past week have demonstrated that America's allies in the Middle East can trust no one in Washington.
| Borderland Beat Reporter J
San Diego cartel associate/lieutenant sentenced
Referred to as an 'underboss', in the complaint against him, Mario Escamilla, aka 'Unico', answered directly to Armando Villareal Herdia, 'Gordo', who presumably answered directly to Fernando Sanchez Arellano, 'El Ingeniero', the heir of the Arellano Felix dynasty.
31 year old Escamilla was sentenced quietly nearly 3 years after his arrest during Operation Luz Verde, a Cross Border Task Force, OCDETF multiple agency investigation.  One of the primary defendants in an indictment under RICO naming 43 persons, his sentence is the harshest yet.  District judge William Hayes handed down a sentence of 35 years, following Escamilla's January 2012 guilty plea to RICO conspiracy and drug trafficking charges, he won't be released until he is in his late sixties.
Revolucion Nortena 'El Unico'
Most of Escamilla's immediate family were also indicted in 'Luz Verde', including his sister, two brothers, and father, who presumably faces charges in Mexico.  From Palm Avenue in Imperial Beach, blocks from where Armando and Arturo Villareal began their careers in the CAF, Revolucion Nortena, likely at his direction made a 2010 corrido, detailing 'El Unico', and his rise to power.
His sentencing memorandum, by Assistant US Attorney Todd Robinson detailed Escamilla's involvement in three conspiracies to murder wayward and disobedient members of his organization, for 'frivolous reasons….including the theft of (relatively) small amounts of marijuana and 'disrespecting' senior leadership.  "Escamilla confirmed through his conduct in this case that he has no qualms about committing murder, no matter how trivial the justification is for doing so".
District Judge William Q Hayes added, the conduct of Mr. Escamilla can only be described as aggravated . . . he conspired to murder three people in cold blood and he participated in the trafficking of a significant amount of methamphetamine, one of the most addictive and destructive controlled substances our society must deal with."
The primary defendant  Armando Villareal, was arrested in Hermosillo, Sonora, in July 2011, and extradited in May 2012.  His trial is set to begin in October of 2013.  Details of Escamilla's plea agreement are unknown.
Previous Related Stories:
http://www.borderlandbeat.com/2012/05/life-crime-in-san-diego.html
http://www.borderlandbeat.com/2012/09/caf-associate-sentenced-in-san-diego.html
Sources: San Diego Fox 5 News, US Justice News Release
Share it:
| Borderland Beat Reporter Chivis
Chivis Martínez for Borderland Beat

This is 'Tuta's' latest video, released a few days ago.  It is 30 minutes in length.  To translate the narrative to English takes more time than the typical video, so I am dividing the narrative translation into two parts.  Many of you have written requesting this video posted.

In my opinion, he is evil, killing and extorting innocents.  Before you feel that he is saying things with merit, I agree with some of what he says, but I look for the motive and you can easily find it.  Community police are the enemy, he is annoyed he has been unable to "take them out" so he tries one of his rants to compromise the reputation of the community police.
He is a deceitful liar, posing as a humble Mexican forced to do wrong.  Just stop and look at the young and old, men and women lemon workers killed, and what people say about CT and Tuta.  Tuta is educated.  He was a teacher.
As for being humble take a look at these photos of his children-humble? at bottom his son at top son on left jenny Rivera and his daughter.  You be the judge.
Here is part one.


Due to the lack of attention from the media of the country, we are obliged to say the truth and why is the insistence of our brotherhood. We don't want society to only hear what others say about us, that is why we give the reasons for our cause…
We are Templar!!!
Would you say your name and your duty?
Servando Gómez Martínez, La Tuta, El Profe
What is your responsibility?
I am responsible of the Knights Templar, the brotherhood or the organization of the Knights Templar. That is who I am.
What do you do here?
Well, right now, I am running away, I am forced to run away because of many things that are said about us. Who say those things? The television networks, that have made us criminals, state, nation and worldwide and criminals in an exaggerated way. Until now, that is the first time that someone come to interview us and which I believe wants to know what our organization is about. This organization that I preside has as others, a board and a congress.
It is not done what I order or what I say. It is done what is believed, it is convenient to the interests of the majority of the people of the town. I excuse myself if we affect the interests of third parties. There are things in our code, our statutes that we can do and others that we can't do and which are penalized with penalties that are from light to capital penalties, it depends on the magnitude of the mistake. We do many illicit things but there are things that we can do and others things that we can't do. We can't mess with the citizens, or the hard working people that work honestly.
If you ask me if I am drug trafficker, we will get to parts where something will come out, but I want to clarify something, there are many people that do the same thing as our organization and who work transporting products to the U.S, they can do whatever they want but the only thing is that, here, we don't let "the ice"  be consumed (they don't do drugs). The prostitutes are a necessary wrongness, if it didn't exist, there would be many rapes.
Someone has to regulate the selling of drugs, as well as someone wants to legalize the marijuana. I haven't known anyone that has died for smoking marijuana or that has cancer (from Marijuana). On the other hand, wine, beer, tobacco and cigarettes are advertised on television networks. That is business and even though those substances are harmful they are advertised.   People die of cirrhosis and cancer because of smoking and still (cigarettes) are sold (that are harmful). Probably there are other interests; you know there are other interests of foreign enterprises. I ask the television networks to investigate and say what is the truth, not what they are forced to say.
What is what is really going on in Michoacán?
We believe in what the President of the Republic said, a few days ago, is right. It should be established a Mexican state of right. The disturbance of the country is not caused by the actual government. There was a party that lasted 12 years with the power and that in those 12 years, they could not organize things. They put themselves on television; they don't have democracy and they even say so, I have the power and I take this person out, and you know what I am referring to.
So it is necessary to establish a state of right in the Mexican Republic. If the Knights Templar is the one obstructing, well then, let the municipal, state or federal police do their job. If someone says that state and municipal police are working for us then, let the federation do the job but with respect. Here the only one to blame is my humble self and the people that work with me (Tuta and the Templar). There is no reason to affect the people of the town. Everybody knows each other, so why do they come and hit people. People say they don't know us because they are afraid. Why don't they do careful operations to get us?
Why send in all those armed people and police corporations to offend and aggravate the people. Why? Tourism and investment are scared away. They come to steal and that is not told about. Why don't the television media ask the villages what is going on? We think that we have the concept clear that we are servants and not to make use of the services and we don't consider ourselves to be scourges. The fingers of the hands are not equal, just as it is not the same the members of the family. That is what happens in the fraternity.
We would like that all of our boys were refined and prepared but which part of the society has been concerned and say: I am an attorney, architect, professor,  whoever, I want to collaborate with you so that this will get better and have progress for peace and tranquility. Violence generates violence. All effect has a cause and all cause have an effect. This has logic, we are a group; we are criminals, right because that is how we are categorized by the television network.
We are a group and we are in Michoacán because we are watching over the interests of the Michoacán people. It has been said by the television networks and by the community guards that we steal and extort and I don't doubt that some of our boys do that do it foolishly, but the administration do not accept it. We don't have a magic wand to enchant everyone to stay still until we tell them or inject in their heads what is wrong and right.
Most of our people lack education this is true,  but no one has worried about supporting us. Well, why do they have to support us, crooked or straight, we are a necessary wrongness and we are here. We are not only in the municipalities of Michoacán, Tierra Caliente or the Mountains. We are in the entire Republic and not only my group; there are many groups. There are foreign people that want to take over the country. I am going to say this with all respect; we have an immeasurably invasion of Chinese. Probably it convenes to the interests of the corporate or I don't know but they are here and they also have mafias.
I am not considered as a mafia, but the media has put us in that level and it is hard work to refute it when the media has the power of reporting it worldwide. What we say does not count but here we are. Ask around, ask the villagers if we are doing right or wrong. I ask the communication media to be professionals, investigate, not only what they are forced to say.
Who is responsible for the violence in Michoacán?
We all are part responsible, the Knights Templar, the Zetas, who aren't in Michoacán nor the Jalisco Cartel, but they manage the community guards and are behind them and to prove it, see the armament that the community guards handle, and see where they started from, from the state of Jalisco and Colima heading this way. They are advancing. We all are part of it, some for defending ourselves and others for attacking us.
Share it:
Sunday, August 11, 2013 | Borderland Beat Reporter badanov
UPDATED with information about the new death toll and the names of six of the seven victims in Fuerte
A total of nine individuals have been found shot to death in Sinaloa state Saturday, according to Mexican news accounts.
A news reprot which appeared in the online edition of El Diario de Coahuila said that the victims were found near the village of Jahuara Dos in El Fuerte municipality in the Mexican sierras Saturday mid morning.
Three of the victims were stripped of clothing.  All of the victims had been bound hand and foot, and had been tortured and shot once in the head.
According to a wire dispatch which appeared in El Imparcial news daily, six  of the dead were identified as Patricio Castro, Cervantes Efren Espinoza, Joshue Eleazar Cervantes Medina, Ruben Angulo Flores, Joel Vega Gaxiola and Juan carlos Milan Bojorquez.  All the victims were listed as residents of Guasave municipality.
According to official sources, the victims had been kidnapped over the course of two weeks in northern Sinaloa state.
Two weeks ago three other victims of executions were found in the same municipality.  El Fuerte and its northern neighbor Choix municipality are considered to be Beltran-Leyva territory.
More than a year ago Choix municipality was the location of intergang warfare between groups aligned with the Sinaloa Cartel against other drug gangs including elements from the Juarez Drug Cartel and Los Zetas.  Over that two week period a total of 57 individuals were killed in intergang fighting and in confrontations with security forces.
Two other individuals were killed in Culican municipality in Sinaloa state Saturday, according to the report in El Imparcial.
Cristian Vizcarra was shot to death in Benito Juarez colony Saturday afternoon while on his way home.
An unidentified man was found shot to death in Centenario neighborhood in the Barrancos sector.
Chris Covert writes Mexican Drug War and national political news for Rantburg.com and BorderlandBeat.com. He can be reached at grurkka@gmail.comShare it:
While Western media, following the lead of pro-Brotherhood Al- Jazeera, continue demonizing the Egyptian military's attempts to neutralize the Muslim Brotherhood terror bases, where people have been tortured, raped, and killed, all according to Islamist fatwas (including rape) the media portray them as 'sit- ins' where Islamists are holding vigil only to be slaughtered by the military. Conversely, the media are virtually silent about the violence against Egypt's Coptic Christians, the nation's original inhabitants, by the same people in the sit- ins.
BNI has not been silent:
Raymond Ibrahim For starters, and as CBN's Gary Lane just put it, "What do Muslim Brotherhood members do when Egyptian Security Forces launch a forewarned operation to clear them from Cairo tent cities? Attack Christians. That's right. Morsi supporters responded with a monumental attack — unprecedented in modern times — on churches throughout Egypt. The torching and destruction of churches occured within six hours of the start of the military crackdown."
Indeed, the abuse of Egypt's Christians has reached unprecedented levels in the modern era. Al-Qaeda's flag has been raised above their churches; their pope is in hiding under threat of death; a priest was shot in front of his church, and another Copt beheaded; their children are being abducted; nary a day goes by without a church being attacked or set aflame; hate filled graffiti covers their homes and churches.
And why has the persecution reached unprecedented levels? Because the Muslim Brotherhood's Mohamed Morsi was ousted by a revolution that saw as many as 30 million Egyptians, most of them Muslims, take to the streets. But of course, the Brotherhood does not want to admit that Muslim majorities do not favor their rule, so they scapegoat the already-hated Christians, portraying them as fundamental to the ousting of Morsi.
Any number of Brotherhood leaders — from the general guide, Mohammed Badie, to the group's spiritual father, Sheikh Yusif al-Qaradawi, all of whom publicly denounced the Coptic pope for being supportive of the revolution and supposedly even killing Muslims – are responsible for this rise in persecution of Copts.
Accordingly, among some Islamists, anti-Christian fury has taken on genocidal proportions. Recently a Libyan Muslim named Tamar Rashad called in to a talk show, saying "I want to offer the good news to [Pope] Tawadros that, Allah willing, the day is coming when no Copt will ever again tread the ground of Egypt – and no churches. We will no longer allow churches to exist." When the TV host appeared to protest, Rashad interrupted him saying, "It's already decided, take your cameras and go to the churches and you'll see what's going to happen soon, Allah willing."
In fact, it has become difficult in the last few days to keep up with the attacks on Egypt's Christians, so many and nonstop are the reports emanating from human-rights organizations in Egypt. Especially throughout Upper Egypt – in Minya, Asyut, Sohag – Christians and their churches are under attack; dozens of Coptic homes and businesses have been set on fire. Due to the risk to Christian lives, many churches are no longer holding regular worship services.
Also often left untold by the major media is that Copts suffered unprecedented abuses under Morsi's one year of rule – through legal measures as well as extralegal ones.
For example, in April, after Christians mourned several Copts who were killed by Muslims in St. Mark's Cathedral, Coptic Christianity's holiest site and home to the Coptic pope (before he went into hiding from recent death threats), Muslim mobs who had waited outside launched yet another attack.
Eyewitnesses said as many as 40–50 tear gas canisters targeted the mourners, many of whom were women and children hiding in the cathedral. Two more Copts were killed and many dozens wounded as other officers stood by while the Muslim mob tried to destroy the cathedral. As one Egyptian political commentator pointed out at the time, under Mubarak, not even a pebble was thrown at St. Mark's Cathedral.
Similarly, under the one year of Morsi rule, over a dozen cases of Copts being attacked, arrested, and given sentences double the maximum for supposedly insulting Islam, took place; under Mubarak's thirty year rule, less than a handful of cases was ever registered—proof that, under the Brotherhood, Coptic persecution became legally codified in the context of "blasphemy."
One can go on and on. Yet you won't find out about the persecution of Egypt's Christians – certainly nowhere near its true extent nor the historical continuity and patterns evinced throughout the centuries – following the so-called mainstream media or academia, as can be seen even now in their skewed coverage of the military's attempts to disperse the Brotherhood bases.
It's time the full, ugly truth about Muslim persecution of Christians was known – and acted upon.
Yes, I indict it for ignoring the terror against two innocent British teens in Zanzibar who were doused with acid. I do not give a damn what the reasons were and what justification those bastard Islamists had to change permanently the good lives of two innocent young teens who were there to help Muslims in the first place.
ORIGINAL STORY:zanzibar-muslim-savages-throw-acid-in-the-faces-of-two-british-jewish-teenagers
Published in The Times of Israel (h/t Grant B)
By: 
Farid Ghadry is the co-founder and President of the Reform Party of Syria. He manages THE PAXGAMES, a celebration of worldwide peace to be hosted in Italy in 2014
What is Holy about Ramadan when the Muslim bastards in Zanzibar use it to commit the unholiest of acts?
I am really, really angry.
Where are our Muslim leaders to speak out against such terror and to commit, once and for all, to its eradication?
Where is the King of Saudi Arabia, or the President of the Organization of Islamic Cooperation? Cooperation on what? With the OIC's silence, how could not anyone interpret "Cooperation" to mean to cooperate to disfigure the innocent?
Where is the Grand Imam of al-Azhar University, or the Arab League, or Ayatollah Khamenei, or the millions of other religious Muslim leaders?
Where is Erdogan of Turkey and the Muslim Brotherhood? Why are they silent in the face of such atrocities committed in the name of Islam?
Where are all our collective Muslim voices to indict these senseless acts not even animals in a jungle are capable of?
Islam has become synonymous with terror and the target of justifiable and global contempt. The religion I was born into, and which shelters 1.3 billion people, has turned into a weapon of global destruction against the other 5.7 billion people who do not adhere to Muslim principles.
Islam no longer exists for Islam. Islam exists today to destroy non-Muslims.
I indict all of Islam because the religion that is supposed to support the needy and the helpless has become a cult of terror against the self-sufficient and the enterprising.
I indict all the silent Muslim leaders for their weakness. With their silence, they are feeding these acts of barbarism to define Islam.
I indict them for all the acts of terror committed in the past against thousands upon thousands of innocent people.
I am really, really angry at all the Imams, the Grand Muftis, the Sheikhs, the Mawlawis, the Ayatollahs, the Emirs, the Kings, the Princes, and whatever titles they embrace.
At the end, if they do not indict these acts publicly and courageousely all of them share in the savagery of Zanzibar. That is their legacy.
The Muslim leaders in the OIC and the Arab League must awaken from their slumber by committing serious funds to re-educate our youth and to rid the world of the cancer within, instead of remaining silent or accommodating the evil source of Islamic terror.
It is obvious political correctness and generous aid by the West is not making a difference.
In fact, Western countries have donated hundreds of billions of Dollars in foreign aid to Muslim countries, and we Muslims pay back the West by dousing their children, who came to help our poor and disfranchised, with acid. It is truly sickening.
Something must change. The West must change course to help us find our way, the hard way. This status quo cannot go on.
If you want to help Islam, then it is time to tie your help with what our leaders do or say, and not by how much intelligence they deliver.
Otherwise, stop buying our oil and gas. Let us perish in our own waste. Maybe, then, our leaders will speak out and cooperate with the West based on equality and not based on them forcing Islam upon the rest of the world.
Enough is enough.  I am really, really angry.
May those British teens, and all who were injured by Islamic terror in the past, find peace and happiness. May they, and their families, forgive us for not speaking loudly enough.
You are a courageous man, Fahrid, please watch your back.
By BareNakedIslam • Posted in Muslims vs Muslims
1   China to Philippines: Quit Scarborough Shoal
China has asked all Philippine vessels to leave immediately Scarborough Shoal and sent a second aircraft buzzing over the area to scare away Filipino fishermen, officials said yesterday.
On Monday night, the Chinese Embassy in Manila insisted that Panatag, which it calls Huangyan Island and which is internationally known as Scarborough Shoal, belongs to Beijing.
"As of now we still have a standoff because we are told to leave but we won't leave, and we tell them to leave but they don't want to leave," Defence Secretary Voltaire Gazmin said. He admitted the presence of the Chinese ships was affecting activities of Filipino fishermen.
Gazmin said the Philippines will not give ground. "We will fight for what is ours. We are in the area and we will not leave while we continue the talks between our Department of Foreign Affairs and Chinese authorities," he said.
2

hen a smaller, weaker country is threatened by a larger, more powerful one, the odds of the former prevailing are improved if—and only if—it is lead by an able leader.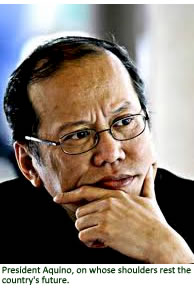 The question is: does President Benigno Aquino III have what it takes to face-down China and fight for what rightfully belongs to the Philippines?
So far, we have seen little of that. In fact, as if to telegraph his punches to the Chinese, Aquino declared in his recent State of the Nation address that he would rather use the 1.58 billion peso cost of a new fighter jet to instead build 6,580 houses for soldiers and policemen. While such intention is laudable, history teaches us that a nation without a credible defense does not remain free for long.
If the Philippines is to protect its territory from outside aggression, it has to militarize in a big way. Israel can serve as a role model in this regard. Even though that country has strong military ties with the United States, Israelis take their own military capability seriously. Rather than lean on its powerful ally, Israel built up its own world-class defense industry.
Young Israelis are required to serve at least 2 years with the Israel Defense Forces (IDF), and then join the ready reserve after their tour of duty ends. As we have stated in a past editorial, we believe Filipino youth would greatly benefit from a similar conscription in the Philippines.
Medicine's Whiz Kids?
Rosslyn Smith
I am concerned that the takeover of American medicine by bureaucratic dictate may end in a disaster that will define an era, much as the Vietnam War defined my youth. More
America's Educational Madness
Robert Weissberg
Lack of progress is largely irreversible and self-inflicted. More
Revisiting Churchill on Democracy
Tom Trinko
Obama may be so emotionally entangled with the thought of Democracy that he can't see it's not the right solution when the majority wants to kill or oppress the minority. More
Fantasizing about Austerity
Sierra Rayne
Experience the Left wishes to forget. More
How to Make Mark Levin's Vision of Constitutional Reform a Reality
Jeffrey W. Barrett
An operator's manual on how constitutionalists in America might restore constitutional government while bypassing the entrenched federal interests in Washington DC. More
Chasing Squirrels
Bill Schanefelt
It's anybody's guess as to what the Administration was up to in Benghazi. More
Clashes kill 18 rebels in central Syria
Posted: Aug 13, 2013 1:03 PM EST Updated: Aug 13, 2013 2:33 PM EST
BEIRUT (AP) – President Bashar Assad's forces killed at least 18 rebels in central Syria in clashes near the country's main north-south highway, activists said Tuesday.
The Britain-based Syrian Observatory for Human Rights said the fighting took place overnight in Hama province near the town of Morek, which straddles the major road that links the capital, Damascus, with the largely rebel-held northern provinces.
Since last year, the government has been battling rebels for control of the highway, which the regime wants to keep open so it can resupply its forces bogged down in fighting in the contested city of Aleppo and elsewhere in northern Syria. The opposition wants to cut the route to prevent supplies and reinforcements from reaching those troops.
Iran president warns Egypt against 'suppression'
TEHRAN, Iran (AP) – Iran's new president is calling on the Egyptian army to stop "suppressing" the Egyptian people.
Hasan Rouhani's Thursday remarks came a day after security forces stormed two sit-ins occupied by supporters of Egyptian President Mohammed Morsi, ousted in a July 3 coup. Over 500 people were killed in violence that swept across the nation.
"I warn Egypt's military that Egyptians are a great and freedom-seeking nation. Do not suppress them," said Rouhani in a speech in parliament broadcast live on state TV. He condemned what he said was army "brutality."
What Reggie Love Had to Say about the Obama Birth Certificate
August 16, 2013
One of Barack Obama's best buddies spilled the beans. More
Some Clown
August 16, 2013
Yeah, I'd like to see him chased by a bull. More
Dorm Dilemmas
August 16, 2013
The Freedom from Religion Foundation strikes again. More
Dead Fish on Capitol Hill
August 16, 2013
Old Testament plagues strike DC. More
Progressive radio show host insults short people
August 15, 2013
GOP field a 'dwarf toss"? More
Holder and FBI admit lying about data released before election last year
August 15, 2013
In their efforts to promote the re-election of Barack Obama, our nation's premier law enforcement agencies presented false data to the American public about a "crackdown" on mortgage fraud. More
Former congressman Jesse Jackson, Jr. gets 30 months in jail
August 15, 2013
His wife gets a year for filing a false tax return. More
The Democrat Party Puts Citizens at the Back of the Bus
August 15, 2013
EEOC to prevent "workplace discrimination" against illegals. More
Obama 'body man' Reggie Love says he played cards with the president during bin Laden raid
August 15, 2013
Wil the narrative of a courageous president, pouring over details of the raid and worrying about the safety of his men be altered to reflect this new information? More
Rep. Stockman invites banned MO rodeo clown to perform in Texas
August 15, 2013
Limbaugh rightly compares the incident to the Mohammed cartoon hysteria by Muslims. More
And the guns keep showing up in Mexico
August 15, 2013
"Fast and Furious" still taking a human toll. More
Court slaps down Obama for disreagrding laws he doesn't like
August 15, 2013
In a major rebuke on Tuesday, the D.C. Circuit Court of Appeals issued an unusual writ of mandamus, which is a direct judicial order compelling the government to fulfill a legal obligation. More
Father says Braves fan who fell to his death went to several games a month

More >>

Federal government, 6 states sue to block proposed airline merger of US Airways, American

More >>

Ex-sheriff and friends tell of odd encounter with Calif. teen, abductor in Idaho wilderness

More >>

Usher to keep custody of 2 young sons; ex-wife asked for them after Atlanta pool accident

More >>

FCC votes 2-1 on decade-old petition to limit charges for inmate phone calls

More >>

Southern California wildfire growing amid hot, dry conditions, threatening hundreds of homes

More >>

Minn. dad claims third of $448M Powerball jackpot; 2 other winning tickets sold in NJ

More >>

2 suspected US drone strikes kill 9 alleged al-Qaida militants in Yemen

More >>

New devices let you fly like Iron Man but spark Hawaii concerns about environment, safety

More >>
BEIRUT (AP) – President Bashar Assad's forces killed at least 18 rebels in central Syria in clashes near the country's main north-south highway, activists said Tuesday.
The Britain-based Syrian Observatory for Human Rights said the fighting took place overnight in Hama province near the town of Morek, which straddles the major road that links the capital, Damascus, with the largely rebel-held northern provinces.
Since last year, the government has been battling rebels for control of the highway, which the regime wants to keep open so it can resupply its forces bogged down in fighting in the contested city of Aleppo and elsewhere in northern Syria. The opposition wants to cut the route to prevent supplies and reinforcements from reaching those troops.