World: Fort Hood Shooter Found Guilty, Will be Castrated
Why did Nidal Hassan kill 14 people.  Because, he is a Muslim.  They would not let him testify to that fact.  He tried to say he killed the Fort Hood victims due to his Muslim beliefs, but the judge would not let him.
Why was Fort Hood not classified a terrorist attack?  Because, Obama is a Muslim.
Why are we aiding the Muslim Brotherhood in Egypt with Billions of dollars in weapons?  Because, Obama is a Muslim.
Why are we aiding  Al Qaeda in Libya and Syria with Billions of dollars and weapons.  Because, Obama is a Sunni Muslim.
Why is Obam purposely trying to destroy the US economy the way Saudi Arabia is, because they are both Muslim.
Nidal Hasan found guilty on all counts in 2009 attack
(Newser) – Nidal Hasan seems to have gotten the verdict he wanted: The jury in the Fort Hood shooting trial has found him guilty on all counts, reports AP . That makes the former Army psychiatrist—who chose to act as his own attorney, but did very little actual lawyering during the trial—…
More »
They did not use a gun this time and they were black.  Did I mention they were black, black, black...?
Finally. Four years after Maj. Nidal Malik Hasan walked into the Soldier Readiness Processing Center at Fort Hood, Texas, and perpetrated the bloodiest massacre ever on an American military base, the self-confessed jihadist's court martial proceedings began this week. Have you forgotten?
Americans obsessed over the O.J. Simpson, Casey Anthony and Jodi Arias trials. Gun-control lobbyists turned Newtown, Aurora and Tucson into national awareness-raising, fundraising and legislation-promoting campaigns. But where are the celebrity lobbyists and high-profile advocates for the victims of bloodthirsty Muslim vigilante Nidal Hasan?
The White House, which downplayed the terrorist mass murder as "workplace violence," exacerbated national apathy for his evil acts. Our soldiers deserve better. Here are three facts you've probably forgotten — or never knew — about the Fort Hood terror spree.
–Fourteen victims fell on Nov. 5, 2009, not 13. Thirteen of our U.S. military personnel died in cold blood at the deployment center. But the death toll was actually 14. Pvt. Francheska Velez, 21, was pregnant when Hasan shot her during the first round of gunfire. At a military Article 32 hearing in 2010 (analogous to a civilian grand jury hearing), a survivor of the Fort Hood shootings testified that Velez cried out, "My baby! My baby!"
In his opening statement on Tuesday, Hasan (acting as his own lawyer) apologized to his fellow jihadists for not destroying more innocent life.
–The victims were all unarmed. Soldiers inside the deployment center were and are forbidden from carrying weapons — either issued weapons or personal arms — on base. When Hasan commenced his shooting spree by shouting, "Allahu Akbar," several brave men and women in uniform used chairs, tables and their own bodies to try to stop him. But it wasn't until a courageous, armed civilian police officer, Sgt. Kimberley Munley, arrived on the scene with her 9mm Beretta that Hasan's rampage was interrupted.
In a gunfight outside the deployment center, Munley wounded Hasan — who was able to return fire and shot her in the hand, thigh and knee. While she lay on the ground, Hasan kicked away her weapon. Another armed civilian police officer, Mark Todd, was able to fire at Hasan five times and brought him down.
Fort Hood victims want shooting … Rubinstein terms the government's refusal to call the shooting incident a terrorist attack for … Political cartoons full of …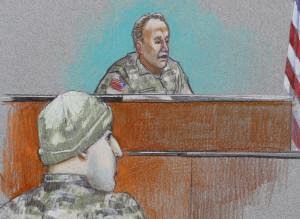 When I read USA Today, this morning, I was in disbelief by a headline and accompanying article:
Army Top Doc:  No Clues to Violence in Hasan File; Says Fort Hood Tragedy Couldn't Be Predicted
Yeah, Right:
Army Surgeon Gen., Lt. Gen. Eric Schoomaker Denies Clues on Nidal Malik Hasan
HUH?!, I thought. This is, after all, the same Nidal Malik Hasan who not only gave hints to his advocacy of Islamic jihadist violence against Americans repeatedly throughout his career, but several Army doctors and officials voiced their concerns. It's also the same Nidal Malik Hasan, about whom I read a different headline in the very same McPaper, two days earlier:
Army Reviews of Hasan Ignored Many Red Flags
And that's hardly news, since we've been hearing story after story in the months since the Fort Hood Islamic terrorist attack perpetrated by Maj. Hasan, all of them documenting how Hasan gave outright statement after outright statement about his extremist Islamic views and his wishes for them to be acted out by various parties. And we already know that, according to Ft. Hood Congressman John Carter, the Pentagon's report on Fort Hood was sanitized to avoid discussing Islamic terrorism and offending Muslims.
Yet Army Surgeon General, Lt. Gen. Eric Schoomaker, claims there were no clues of potential violence, as he and his underlings looked the other way and repeatedly engaged in Islamic affirmative action, promoting this monster and giving him glowing reviews.
But Lt. Gen. Eric Schoomaker, the Army surgeon general, told USA TODAY there's no evidence his staff "could have predicted" that Maj. Nidal Hasan, the man accused of killing 13 people at Fort Hood in Texas, "could have become a mass murderer."
Writes reader Sean, who spent several years serving our country in the U.S. Army, and asked the rhetorical "WTF?":
REALLY?? So the briefing he gave to other doctors that justified jihad…that didn't clue anybody in? And his jihadi garb that he wore that day….that wasn't a tip off? What PLANET is this guy on? And the fact that he was accusing soldiers of war crimes instead of treating their mental health issues…that wasn't a clue? COME ON!!
Exactly. The smoke and mirrors and buck-passing in this blind, head-in-the-sand, affirmative action promotion of Hasan by the Army and the military establishment is simply sickening.
Sean adds:
If the name, "Schoomaker," looks familiar, it's because he's the younger brother of the former Army Chief of Staff.
Sadly, the cronyism in the U.S. military never ends. Nor does the duck-and-weave around taking responsibility for Nidal Malik Hasan.
If they can't see the enemy in their own ranks, how on earth can we trust them to see and defeat the enemy away from U.S. soil? And why on earth are we fighting them "over there," when we're willingly allowing them to grow like metastasized cancer over here, right smack-dab in the middle of the U.S. Army?
My Great-Uncle Maurice was the Surgeon General for the U.S. Army over the South Pacific, after Pearl Harbor was bombed. But he was also known as "The Cleaner." Back in the day, he'd have been brought in to fire this guy, Schoomaker, and all the others who looked the other way at the long-impending explosion that is Nidal Malik Hasan.
Israel & The Middle East
video

Saudi Arabia:  Economic Terrorist
video
video


Buchanan: 'Interracial violence is overwhelmingly black-on-white'...
When are white parents going to start exploiting the deaths of their relatives and initiate legislation against violent black teens and white preachers preach against the violetn racism against white people that is 10 times more prevalent than against white people.
Where are the white Al Sharptons?


W

'SHORTY' LEFT FOR DEAD...
WWII vet, 88, beaten to death by black teens...
Suspect photos released...
Report: Syrian rebel forces trained by U.S. moving toward Damascus...
---
NM Supreme Court Finds Refusing to Photograph Gay Wedding Is Violation of Human Rights...
---
FUND FOR SLAIN AUSTRALIAN PLAYER TOPS $100K...
Chris Lane's final moments: 'Honey, he's gone'...
Buchanan: 'Interracial violence is overwhelmingly black-on-white'...
---
Police: Man doused with gasoline, set on fire in vacant lot...
Hot Dog Vendor Beaten With Hammer, Robbed of Cell Phone...
---
UPDATE: 'Homeland Security' Employee Preparing for Coming Race War...
---
Russians conduct secret arms inspection of US missile defense base in CA...
Thats so crazy it ought to be on SVU.
Obama: No Allegations NSA Is Trying to 'Listen in On People's Email'...
'Inadvertently, Accidentally' Pulled Emails of Americans...
Israel strikes Lebanon after rocket attacks...
---
Obama: Republicans Agree With Me -- Privately...
80 HOUSE MEMBERS: SHUTDOWN BETTER THAN OBAMACARE...
---
Egyptian military deployed around Cairo ahead of Pro-Morsi protests...
---
More than half of world's exchanges hit last year...
Cramer: We need a disaster plan!
Police in Washington state are searching for two young suspects who beat a World War II veteran to death in a parking lot Wednesday night. The Spokane Police Department says in a press release officers responded to reports of an assault and found the victim in his car with serious head injuries. He later died in the hospital. Authorities on Thursday released surveillance photos of the two suspects, who they describe as African-American males between the ages of 16 and 19. Friends identified the victim as Delbert Belton, and say he was sitting outside a lodge for the Fraternal Order…

A police force will allow people with just four weeks training to interview criminal suspects alone in a bid to cut costs. Sussex Police has revealed plans to recruit 32 Response Investigators on a starting salary of £20,020 ($31,187) a year to help free up police officers to be out on the street. A job description says they will be expected to manage their own caseload which will involve investigating crimes, gathering evidence, appearing in court and dealing with victims. But despite the onerous nature of the role, applicants do not need to have any policing qualifications or experience whatsoever….
€˜Unflippingbelievable': Sarah Palin outraged by DHS employee's hate websiteAugust 23, 2013  00:49 AM
This can't be true, can it?
Latest proof Obama spending 'every minute of every day' working on the economy [pic]
August 22, 2013  08:02 PM
It hasn't even been a month since President Obama pledged to spend "every minute of every day" working to fix the economy in addition to saving the world in general. So far, this is as close as the president has come to talking about the Syrian chemical attacks. http://t.co/vIgRwgrM6W via @petesouza— Aldous Huxley (@AF632) August […]
President's 'polite' heckler reportedly tweeted her plans in advance
August 22, 2013  07:36 PM
President Obama was heckled during a speech in Syracuse, N.Y., this evening, and the heckler reportedly had tweeted her plans earlier in the day. President Obama interrupted by hecklers in Syracuse. Two women were escorted out, pool says one carried "Free Bradley Manning" sign— Steve Brusk (@stevebruskCNN) August 22, 2013 Just watched a heckler get […]
It's official: Oberlin race hoax perpetrated by lefties; Alumna Lena Dunham silent
August 22, 2013  07:23 PM
They got it wrong. Big time.
White House 'tight-lipped' on Syria; Will President Obama frown upon gas attack?
August 22, 2013  06:43 PM
If only @chucktodd knew someone who could ask POTUS questions and get this cleared up. twitter.com/chucktodd/stat…— cosmoscon (@gdthomp01) August 22, 2013 While Deputy Press Secretary Josh Earnest was preparing a statement expressing the White House's "deep concern" over reports of a gas attack in Syria that killed as many as 1,300, the president was making […]